Halloween is a favorite holiday at our house. I am not sure why, but we always seem to have more going on the week of Halloween than any other time of the year! So today we started our week of festivities with our
Halloween Muffin Tin Monday
!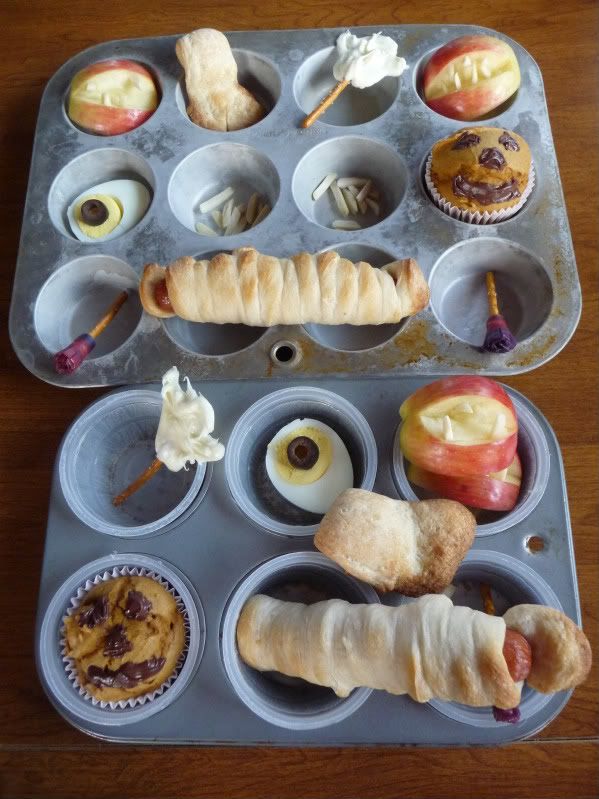 It took me FOREVER to put this meal together. FOR. EVER. Too long, really. Even though each individual part was very easy, everything added together ended up taking a lot of time. The end result was good, but for the amount of time I put in it should have been great. The kids loved it, though, so really what else matters?
Here is Kiddo's:
Top row:
Goblin mouths (apple wedges and slivered almonds), bread stick ghost (I had to do something with the leftover bread sticks--it is a stretch, I know),
white chocolate ghostie
, another goblin mouth.
Middle row:
Dragon eye (hard-boiled egg half with black olive pupil), goblin teeth (slivered almonds--I needed something to fill in the spaces on his tin), pumpkin spice jack-o-lantern muffin (recipe
here
, I added the chocolate jack-o-lantern face).
Bottom row:
Witches broom (fruit-by-the-foot wrapped around a pretzel stick), Mummy dog, another witches broom.
Many of the other items came from
Family Fun
, though I saw them elsewhere in webland, too.
Here is Kutey's: