(This post is part of the back log I am working on. If you are getting it in a reader, I apologize, things will be out of order!) We spent three days last week submersed in history. Kiddo's favorite. He was in his element. It was made better by the fact that we hit two of the history sites with good friends. That always helps. Even if the site isn't interesting enough, there are friends to distract us!
Thursday: Fort Snelling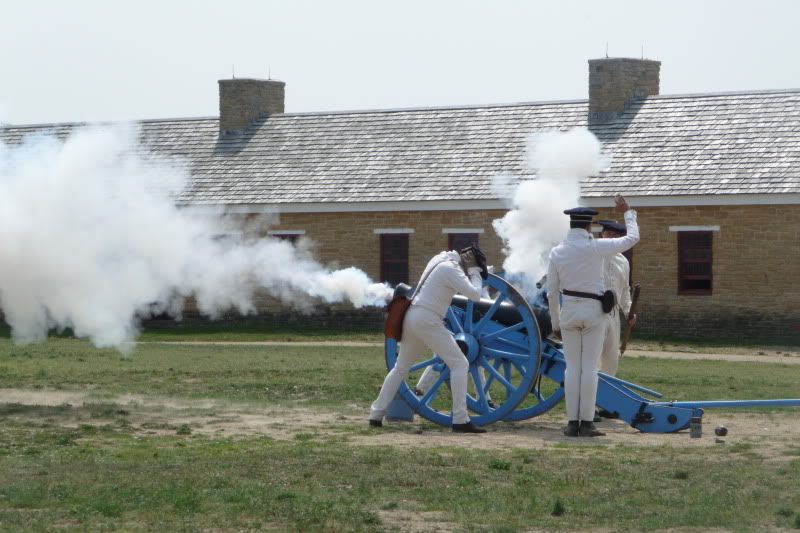 Our second visit to the fort this summer. The weather was perfect for the outing, again. The fort only has shade directly in front of the buildings where the porches are or inside the buildings, so decent temperatures are a must!
This summer they seem to have a few different things happening at that fort. There are more buildings open, which is fun, and today we were fortunate to catch someone working in the wood shop! She was working on the inserts for a butter mold. It is fascinating to think about the immense amount of work that went into creating each and every item. We can easily pick up a new whatever from the store when pieces go missing from ours. The only option then was to make a new one. We were also fortunate to catch "Mrs. Snelling" at home today. She was FABULOUS! I learned more in the short time we listened to her than I have in the many visits before. Kiddo has even asked if we can read more about this time in our history, I think partly because of her!
Ever since our
Ben Franklin Study last spring
, Kiddo has been fascinated by lightning rods. It is his favorite Franklin invention. Today we discovered the lightning rods on Fort Snelling! Apparently there was a lightning strike on one of the buildings some years ago after which they fixed lightning rods (in great numbers) to the tops of the buildings. It was quite cool.
Friday: The Nina and Pinta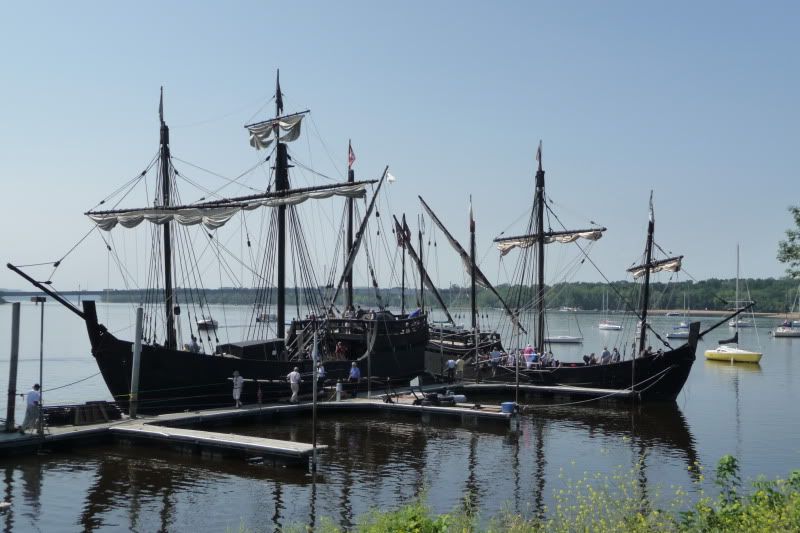 This summer, you can see replicas of Christopher Columbus's ships the Nina and the Pinta. While we have only touched on Christopher Columbus, and only read about his ships just before we saw the ships, it is on our schedule for this year. The ships were worth the visit, but again, more interaction might have been nice. There are people who are actually living on the ships, sailing them from one port to the next. I wish they had been more available to answer questions. That said, it was still very interesting to think about sailing across the Atlantic Ocean on something as small as these ships were.
The Pinta has been built 50% larger to accommodate more people, and it is STILL small. To learn that the crew slept on deck was also fascinating. I can't imagine it, though I have never been a seafarer, either. There were so many ropes, I can't imagine being able to remember what they all were for! I guess if you do it enough, it becomes second nature. The one crew person who we asked about that (while he managed the line to get on the Nina, the smaller of the two ships) said it wasn't really as hard as it looked. Sure, OK.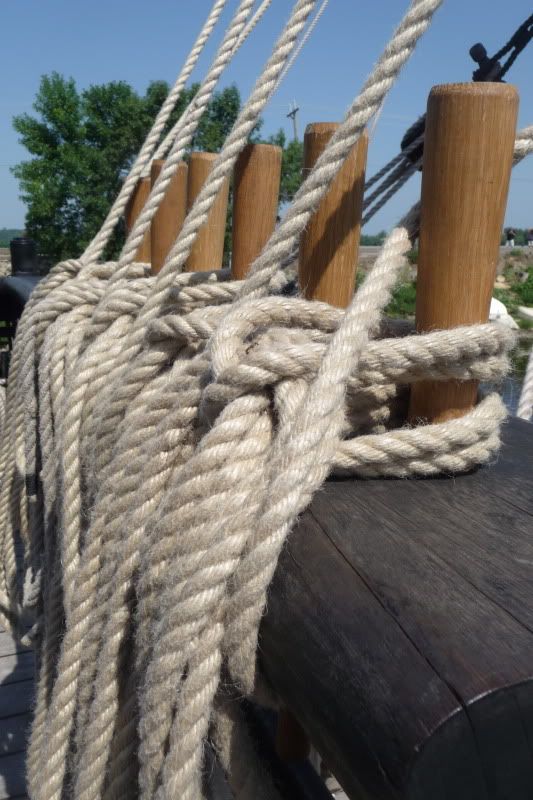 After our brief tours of the ships, we spent a lovely afternoon in the grassy park beside the river, playing with friends, all in sight of the ships. It was delightful.
Saturday: The Gibbs Museum Craft Fair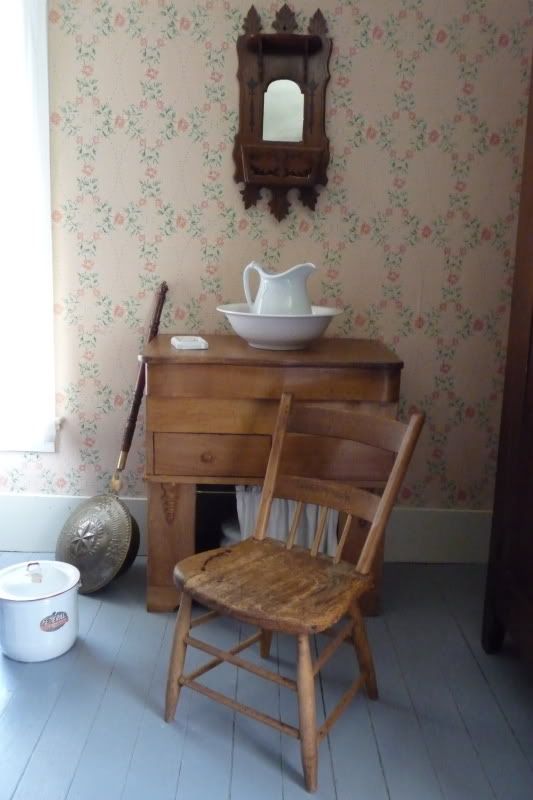 When we became members of the Gibbs museum last time we visited, I knew that we needed to make it there at least two more times to make the membership worth what we paid (aside from supporting the work of the Ramsey County Historical Society, which is a great place for the money to go regardless). They have special weekends throughout the summer and fall, so I didn't think it would be a problem. I wasn't counting on the weather being ridiculous, however. It was hot and humid on Saturday, but we went anyway.
The craft fair wasn't as good as the County Fair day had been, but we did manage to squeeze in an overcrowded tour of the house. Daddy went with us and he had never been to the Gibbs, so we wanted to make sure he got the tour. If you recall, it was also the one thing Kiddo was most upset about last time we went to the Gibbs. So we got our tour. It would have been a bit better if they had at least one more tour of the house. There were too many people trying to see it!
We also did two craft items. Kiddo wove a mat, and Kiddo and Kutey dipped candles again. The mat weaving was super simple and super rewarding. They had looms set up on cardboard squares and fabric cut into strips. I folded each strip into thirds and Kiddo wove it through the loom. It took about 15 minutes to complete the whole project (maybe a bit longer), and Kiddo was so proud of his creation! He wants to rearrange the table in the family room so he can put it there with a lamp on top of it. So sweet. Candle dipping was fun again, and went fast because the kids were the only two doing it at the time. The down side was the volunteer running it was new and didn't quite have to process down. She didn't trim the weight off until the very end, which made the candles a bit awkward. She also didn't think they needed to be redipped once she had cut it off...but the bottoms looked very rough after the trimming, and that was how we did it the last time, so we did it anyway.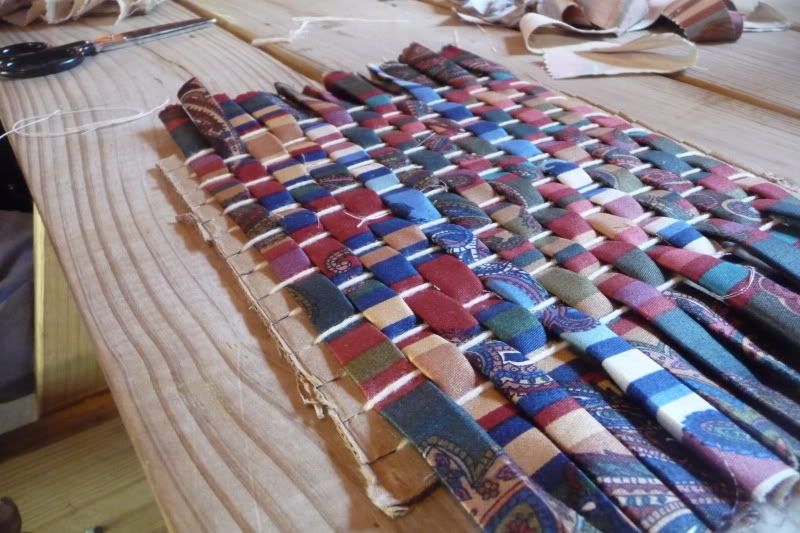 They also had block printing you could do, but there was only one station and elaborate pictures being created, so we didn't do that one. Apparently you could make a bookmark some where, too, but we didn't find that. The blacksmith was there again, and there was a man working with a draw knife making an axe handle as well. There were a couple of other craft demos as well, including chicken scratch embroidery which I would like to look up and try.
There was another history event we could have attended on Sunday, but the temperatures soared and it the event was outdoors in mostly sun. And after three days of history, we maybe needed a break anyway!