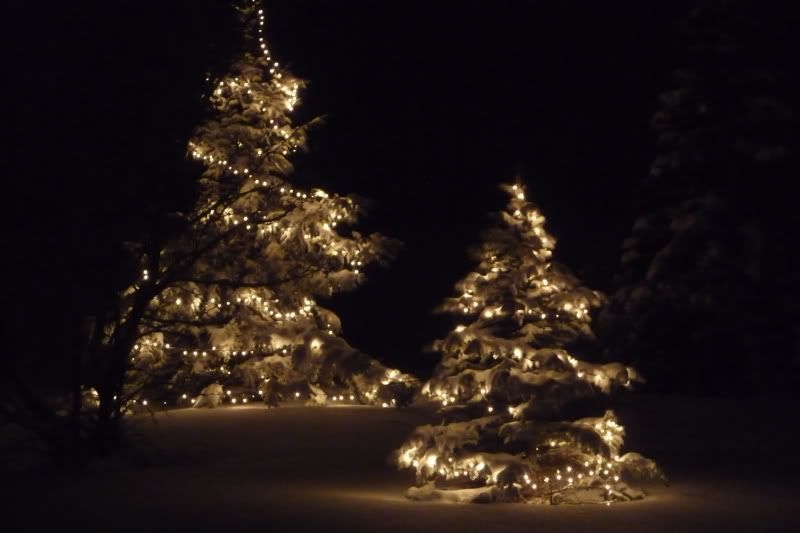 Well, not really. We got white. We also got snowed in. We managed to get to my Dad's house for Christmas Eve, we only got stuck twice and both times were within a block of our driveway. The first was at the end of the driveway. They hadn't plowed our street yet, and the 8 inches of snow were more than the mini van could handle. Lucky for us our neighbors are kind (and strong) and pushed us out of the snow.
Santa paid us a personal visit when we arrived at my Dad's. He has been coming by before his rounds every year since Kutey was born. It is a great treat, though my kids are both still very uncertain. Neither of them will sit on his lap. This year I got them to stand next to Santa for a photo--that was pretty good! We prepped some food for dinner (cranberry orange chicken, Swedish meatballs, cranberry-raspberry salad, lefse, mashed potatoes, etc.) then we left for church.
By 5 p.m., sitting in church (where we barely made it because we got stuck...again), we knew there was no way we were driving home. We went prepared to stay, fortunately. We had a wonderful evening--in spite of the fact that two of the people who were present had been up since about 2 am plowing snow--and were looking at getting up at the same time on Christmas morning to repeat the process. Kiddo got Legos from all of his aunts. Kutey got an adorable pink camouflage sleeping bag. I got Sense and Sensibility and Persuasion. Everyone who was leaving had 4-wheel-drive and had a much shorter drive than us.
We awoke to more snow the next morning. The kids were thrilled that Santa found them at Papa's house and we had a quiet morning. My sister arrived at about 10 am and informed us that we wouldn't be able to get out of the driveway and down the tiny bit of road that led to the much clearer roads. This was the view from the window:
So we hunkered down and watched White Christmas (one of my Santa gifts...along with white socks).
Eventually Hubby and my sister went out (with the kids) and shoveled out the van. We gathered everything up and made our way home. The roads were fine, though I was pleased we were driving them in daylight!
In all, though, it was a good holiday. We had to cancel plans for Christmas Day, but they were easy enough to reschedule. Still, I don't necessarily hope for a repeat next year!