I have seen this activity a couple of places, and it seemed so easy yet festive and fun!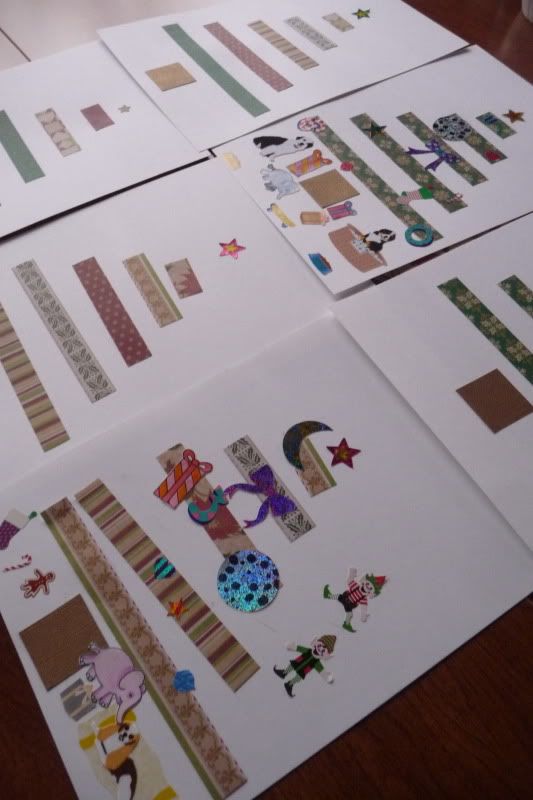 The materials were so simple! Paper and glue. We added stickers, but you certainly could do it without the stickers. I bought a book of 8 x 8 Christmas themed scrapbook paper for something like $5. It was on sale, and we have plenty of paper left after this activity to either do other crafts or actually use for scrapbooking (if I ever find time to do such things!)
I took out one sheet of each pattern, cut 2 half-inch strips off of each, then cut them in varying lengths--some 1 inch, some 2 inch, some 3 inch, some 4 inch, and some 5 inch. I put each group into one of our recycled applesauce cups. I also cut light weight cardstock so that I had pieces that were 6 X 8 1/2.
The kids took one strip of each size paper, smeared glue on the back with a glue stick (I used school glue and a paint brush because all but 2 of our glue sticks are worthless) and placed them in order from longest at the bottom to shortest at the top.
Then we realized we had floating trees. So I cut some sort of goldish cardstock from the same paper book into 1 inch squares and we glued those on as trunks. We used stickers for the stars on top. I thought they were lovely just the way they were, but Kiddo and Kutey wanted to decorate the trees. Hmmm, well, OK. I dug out some stickers and let them pick out what they wanted. I won't say they were the most Christmasy stickers but the kids enjoyed them and that is what matters!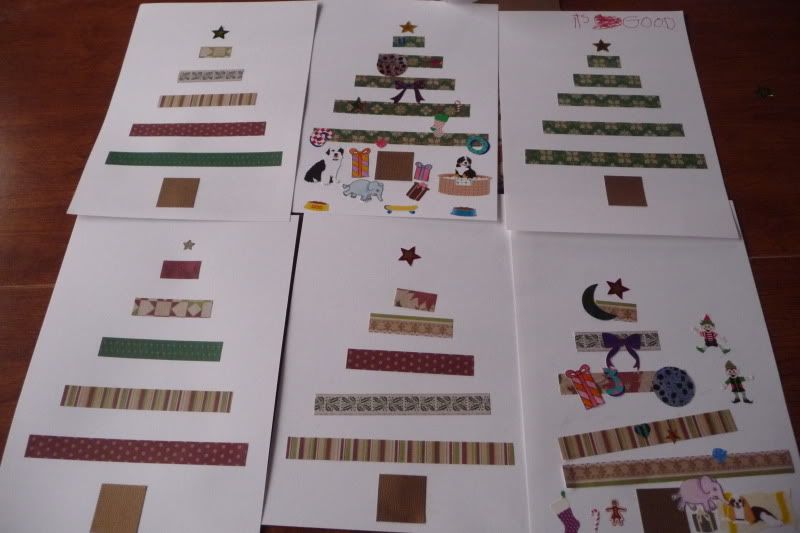 Mine are the undecorated two on the left. Kiddos are the two on top, and Kutey's are below his. As you can see, Kiddo went with all one color paper, which means two things: I had to cut more paper halfway through, and there is a bunch of other colors left in strips. There was going to be some left over anyway, so it isn't huge, but I need to find a craft that would use it up now. Any ideas are welcome!