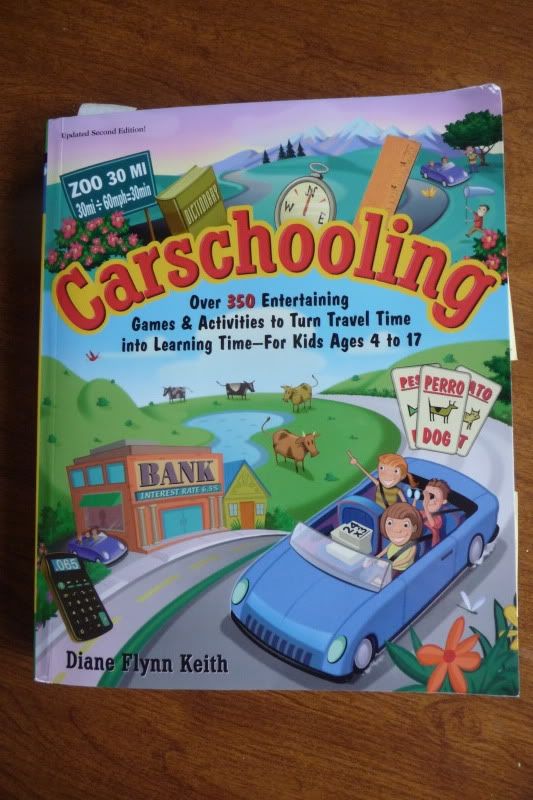 A while back, I was selected to review
Diane Flynn Keith's
new edition of
Carschooling
. I honestly did not know what to expect, but given the amount of time we spend in the car I figured it couldn't hurt to have even a few more ideas.
I am thrilled with the content and I am not even halfway through the book yet! Would you look at all those tabs? Those are the things I want to use. Right away. I plan to make the book a permanent fixture in the car. I might even have to get another copy--so I can have one in the house to prepare for long drives and one in the car for times I need it.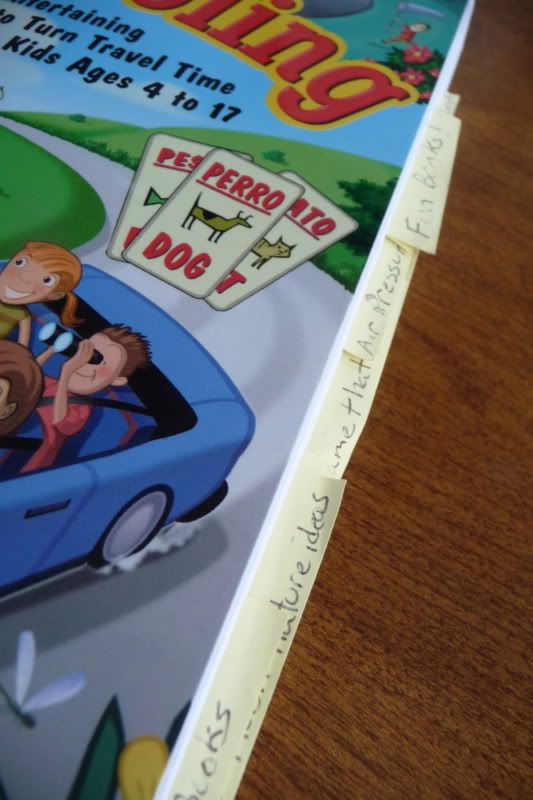 Yes, there are some ideas we all know (variations on 20 questions, the alphabet game, etc.) But with entire chapters devoted to Science, Math, Language Arts, Social Sciences, Geography, Arts, Foreign Languages, and PE and Health, even seasoned Carschoolers are BOUND to find something new. Some of the ideas require that you stop the car and get out once in a while, but many of the ideas are things that can be done in the car while moving. There are also a few ideas that might require that someone other than the driver be able to read at a decent level. The driver should not be trying to read what the indicators of wind speed are while driving the car. Keep your safety and those around you in mind!
The writing is utterly accessible, the ideas are described in enough detail to understand, but not so much that it is overwhelming. And the best part? You don't have to be a homeschooler to benefit from this book! Any parent who spends any time in the car with their kids can use the ideas in this book. There are ideas for all ages in the book, from preschoolers on up. Many of the ideas can be varied slightly to make it a bit more of a challenge for Kiddo, but still allow Kutey to participate. Some of the ideas are a bit more complex than we will get into at this point (we aren't quite ready for the periodic table of elements yet!), but others are perfect! The other ideas just give us room to grow into the book.
One of the things I really like about the book is that the ideas come not only from the author, but from other parents as well. These aren't just one person's idea of what might work, completely untested. These are things people much like me have done and enjoyed. I also appreciated the section on organizing your carschool. I had thought of just skipping over this section, but I decided to read it. I am glad I did. It made me think about many things I hadn't thought about before.
If you get the book, I suggest reading it straight through once. There are so many ideas in it that just skimming you might miss something, and you really don't want to do that.
My family tends to drive long distances at least once a year (think 1200 mile distances). I can't
WAIT
to use the ideas in this book on our next road trip. We have already started using some of the ideas in everyday carschooling. This book is a fantastic addition to my homeschool library!