The History Center
has had a
George Washington Exhibit
since February. It was on the calendar a couple of times, but we never made it. So when I realized it was closing I knew exactly what we needed to do for Kiddo's birthday. It didn't take much persuading to get Kiddo on board; I'm pretty sure I had him at "History."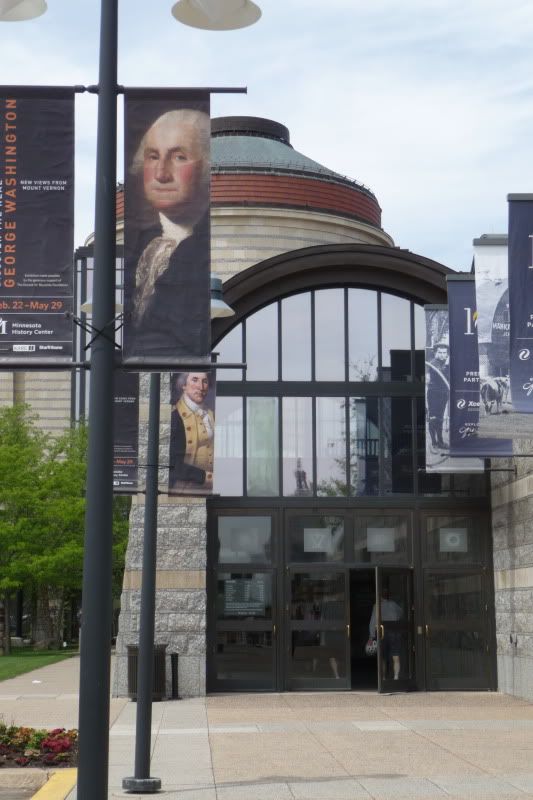 *
There are several halls at the history center. We only made it to one. We have been there a few times now and it seems we can only get to one or two exhibits in a visit. This time, Kiddo and I read every sign, watched every second of every video, did every interactive piece, and saw every inch of the George Washington exhibit. Kutey and Daddy went through much faster than we did, and they still saw everything.
It was a well done, comprehensive exhibit. The life size Washington's were nice, and sort of supposed to be one of the highlights and unique pieces of the exhibit. They were cool, but there were definitely other things kiddo enjoyed more.
All of the high points in Washington's life were touched on. They started at his birth, talked about his days as a surveyor, his early military career, his involvement in the revolution, his presidency, his return to Mount Vernon, and his death. They even had a video regarding Washington's slave ownership. It was quite interesting.
Kiddo was enthralled. He filled in gaps for me, because he has read a great deal about the Revolutionary War (Thanks
Magic Tree House
!). He did have to ask for a bit of timeline clarification, because Washington served in the military two separate times. When it said he left the military the first time, Kiddo was confused, because none of what he knew of Washington's military career had yet been covered! Once I stated the dates again, however, all was clarified.
There were a couple of things that piqued his curiosity for further study: the
Freemasons
and spies during the Revolution. There was a fantastic short video about the spies of the war. I admit, I am as interested in learning more as Kiddo is!
We also learned a bit about
Mount Vernon
. They had a scale model of the estate, which was fun to see given our
previous
virtual tour
of the estate. It really is a massive estate! It was fun to see the model, even if the tidbits you could read were mostly the same as the tidbits on the website. It was good review, right?
They had one live person with early dental tools. Washington had terrible teeth, even though he was good about taking care of them using the practices of the day. The person at the table thought he would stump Kiddo, as he had stumped others before, by asking him what the tooth key was for. Kiddo knew. Not because he had heard what the person said before, but because that is one of the things they show regularly at
Fort Snelling
. It was also, incidentally, pictured in the display on
Washington's false teeth
(none of which were not made of wood!), probably 5 feet before you reached the table. All those people who had been previously stumped? Obviously they had not paid much attention to that portion of the display!
We left after 2+ hours of reading. While Kiddo could have read it all, I read quite a bit of it to him, in part to expedite the process and in part because I could start reading to him while there were still people in his way. There were a lot of people there, mostly adults, but a few kids mixed in.
Kiddo loved the whole thing, but I think his favorite parts were seeing how the grist mill worked (they had both a model and a video), the information on espionage during the revolution (a video), the Mount Vernon model, and the quiz at the end. We have now seen the
Benjamin Franklin
exhibit and the George Washington exhibit at the
History Center
. I wonder what they will bring in next!
*photos are not allowed inside the exhibit, hence the somewhat boring shots!