It was a beautiful spring day, the kind we have had far too few of this year, so we hit one of our favorite parks with our Tuesday group. Chutes and Ladders is a fun playground, but I honestly think my kids enjoy the rest of the park just as much, if not more!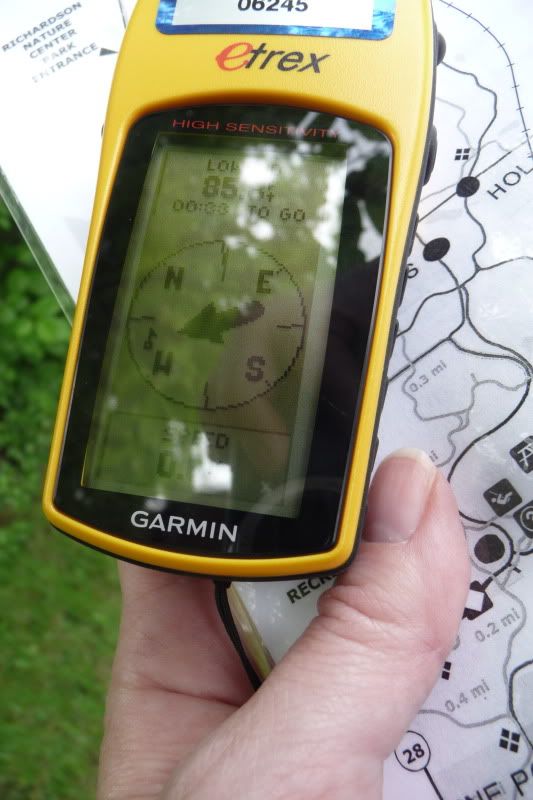 One of the new things that has added to the fun is geocaching! The visitors' center has GPS units you can check out and maps to caches. There are 7, I believe, within the park. They have all been placed by individuals, in conjunction with the park, so they are all different. They let us check out 4 GPS units, which was fabulous since we have 8 kids! We picked the closest cache (that didn't require a boat!) and set off. About half the group had geocached before, last summer when we went camping with another Tuesday group family.
We managed to find a the spot where we believed the first cache was, but we were not able to find it. We searched and searched in what seemed to be the proper location, given the trampled appearance of the area. Yet we found nothing. I checked the
geocaching.com
website when I got home, and the kids and I might just have to go back and look for it again!
We picked a second cache that was supposedly close by, and set out. It was funny, we had a tough time picking a direction. The paths did not go the direction the cache was supposed to be and we were struggling to read the map. I pride myself on being fairly good at reading a map. But this map. This map was crazy. There were things on the path that didn't exist on the map. An entire picnic area seemed to have been forgotten. Add to that the fact that the map was a black and white copy of what seems to have been a color map originally, and, well, you get the idea. It was a lovely walk, though! And we managed to get on the right path, and then off the path in the right area. Just as we were getting frustrated again, we found it!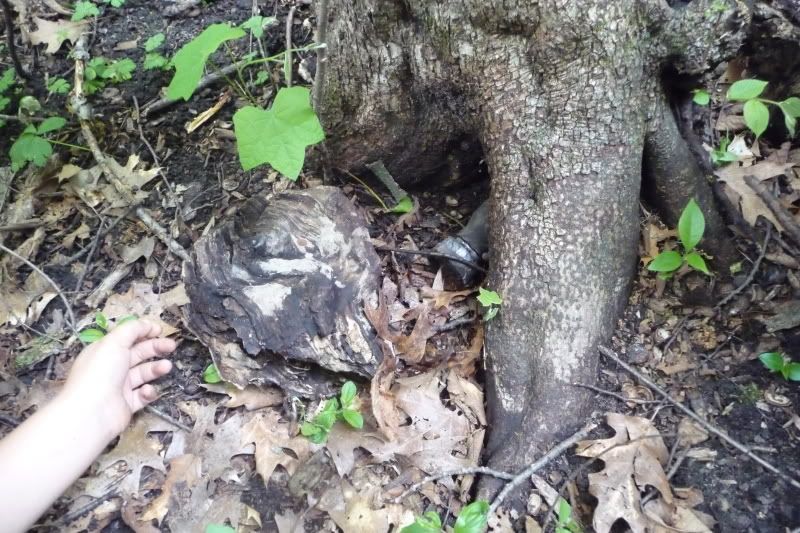 I might have stolen a bit of the thrill. I made them leave it where it was until everyone had seen it and I had gotten a picture of it. I'm mean like that. And I want to be sure all the kids are included. It is pretty easy in a big group like that for someone to miss it. But they were excited. We peered at the bits and bobbles left behind by previous cache finders and we added our name to the list.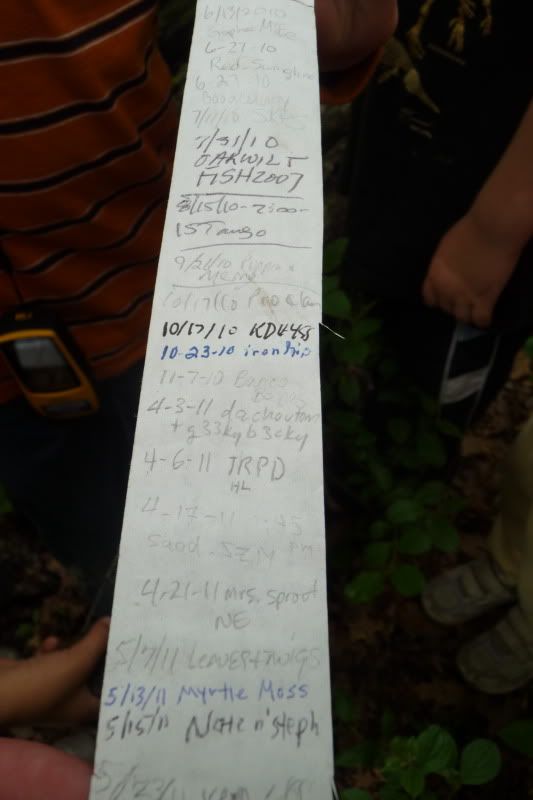 Fresh off our victory we headed to "just one more!" on our way back. We got within 100 feet of it, but that last 100 feet was, well, mud. And more mud. With a little mud mixed in, just for good measure. It was just too wet. So we turned in our GPS units. We had fun, though! And might try it again some time.
As we were leaving, Kiddo was walking backward saying goodbye to all of his friends. He wasn't really paying attention and backed right into a curbed landscaping area. He sat down into a bush. It was one of those moments that could have either been extremely upsetting to him, or laughable. So I laughed. And so did he. It was rather humorous. But it made me realize that my reaction has a tremendous impact on his reaction. If I can laugh, knowing he wasn't hurt, he will see the humor in it, too. They teach you something new every day.