When I started the first lesson of R.E.A.L. Science Odyssey last month, I had intended to finish the lesson in the week. I don't know what happened. We didn't get to it, and it just kept getting put off.
I tend to be a bit of a perfectionist. I didn't have exactly what they were asking for (I don't have a meter stick, for example, just a yard stick and barely that) so I kept putting it off until I had the "right" tools. I finally decided that I was not going to get anywhere if I kept doing that and plunged ahead. So today we did the second lab for lesson 1--a plot study.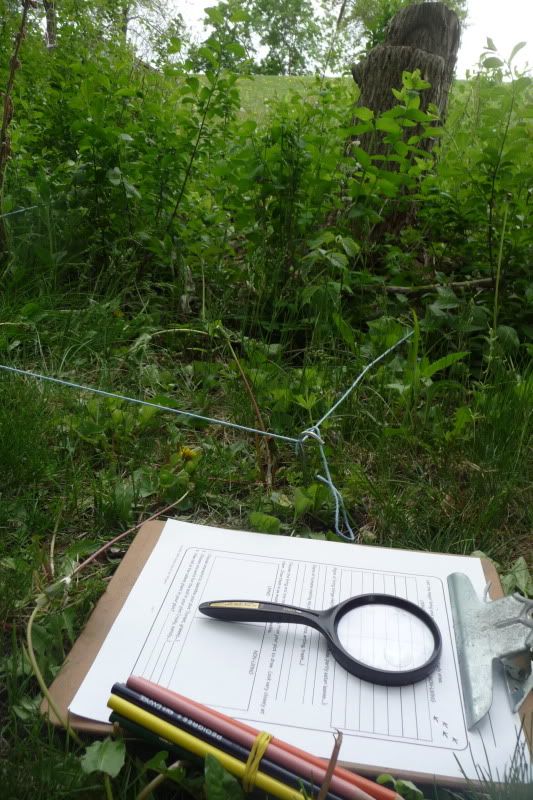 We have a large yard, and toward the back it is less tended. None of my yard is exactly "manicured" which the book said to avoid, but I figured this would be some of the more wild space. I used tent stakes to stake out a space 1 yard x 1 yard. Then we started observing and writing down the things we saw that were living and the things we saw that were not living. Garbage, rock, stick (WAS living, now isn't). We saw some very cool living things, too, I thought. There was a tiny green caterpillar, several ants, and a couple of small winged insects along with grass and dandelions, common blue violets (which the kids can both easily identify! YAY!), and some buckthorn that should NOT be there, among other things.
Kiddo and Kutey lost interest fairly quickly. I'd say they looked for maybe 10 minutes, total, and that was in several spurts. I spent probably 30 minutes looking and pointing things out before I gave up and called it good enough. Maybe the next session will be more interesting to them!