(This post is part of the back log I am working on. If you are getting it in a reader, I apologize, things will be out of order!) This week's Friday History Field Trip was to
Folsom House
in Taylors Falls, MN. I was very excited. I have family history in Taylors Falls. I have been to the area many times over the years, but I had never once even HEARD of Folsom house.
Folsom House was built by W.H.C. Folsom who made his fortune in lumber among other things. He served in the state house and senate early in the state's history. He moved his family into the house in 1850, and the house remained in the family until it was turned over to the Historical Society. Because the house remained in the family, and because the family never fell on hard times, the house is still filled with the belongings of the family. There are some very unique items--I won't give away all the secrets, some of them you just have to see for yourself! But there is a unique collection of cups and a number of unique toys. The kitchen tools, however, are perhaps the most interesting.
Normally there are guided tours of the house, and that is what we expected. We happened to go, however, on the first day of a weekend-long quilt show in the house. This meant that we did not get a tour, unfortunately. We are good at asking questions, though, so we still learned a great deal. There are two parlors in the house--the men's parlor, and the women's parlor. They are side by side and were open to each other when we visited, but we were told what they were. There is a beautiful library, a large dining room, and several bedrooms upstairs--two of which you can go through.
Instead of windows on one whole side of the house--where the parlors are on the first floor and bedrooms on the second floor--there are doors. Four of them. I believe they said it had to do with how windows were viewed for the value of the house (and thus the taxes). As is the case in many houses this age, there are few closets. One that we saw. Closets were considered rooms and you were taxed based on the number of rooms, thus no closets. At least that is what I have been told! It is also true, however, that they had fewer possessions they would have placed in a closet, so it would have been much less necessary to have a closet.
One of the fun things we did was to go through the house (particularly the parlors) and note the chairs. We have become "chair historians," and we like to see which chairs are for the men (chairs with arms) and which are for the women (those without). We learned about chairs at
Civil War Day
at
Fort Snelling
this year, and it adds some fun to our tours! We also looked at the stair case, which was exceptionally wide. Apparently it was a status symbol to have a wide staircase. It was also more accommodating of hoop skirts, the fashion of the day.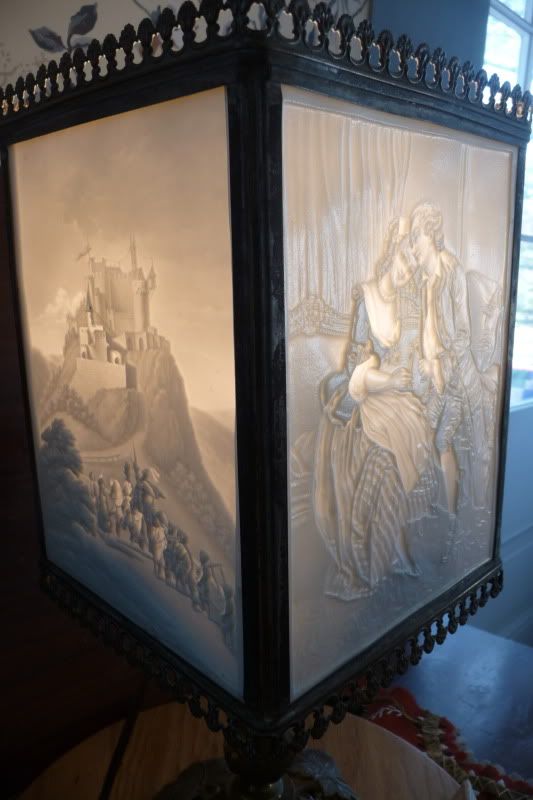 Kutey loved this lamp in the men's parlor. It was very unique. And fragile. One pane had already been replaced, it appeared, and another was cracked horribly. It didn't detract from Kutey's fascination, however! I love seeing what catches the kids eye when we go to places like this. I might not have even noticed this lamp!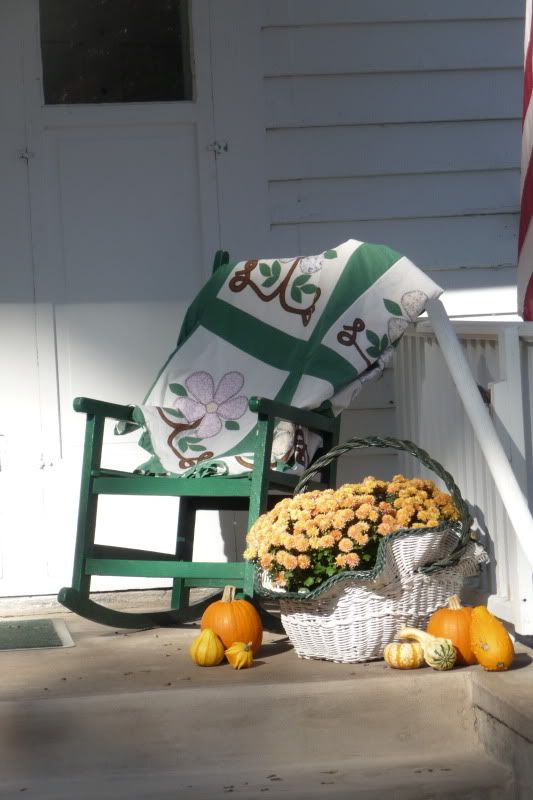 The field trip was a good one, but I think we'll be visiting Folsom House again when they are giving tours. We'd like to learn more!