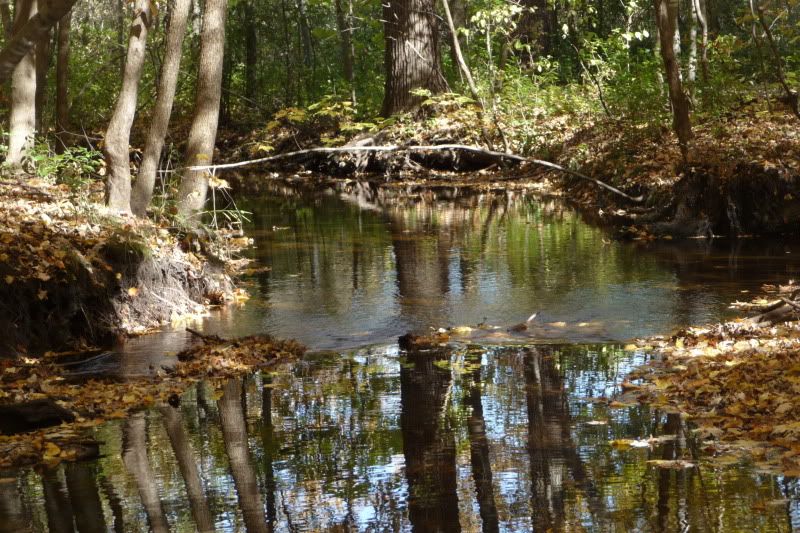 Idyllic, no?
We stumbled upon what might be the greatest outdoor space for us yet. One of our Tuesday group members had a desire to camp, but, well, it just hasn't worked out for her this year. So she wanted to go to a campsite for the day. She did the research, found one reasonably close (it is SUPER close for me, so I love it all the more!), and made the plans. We didn't know what was there. We were pleasantly surprised. The campground is only 5 sites, and we had the whole place to ourselves. There is a central fire pit, along with pits for each site. We used the central fire pit. We had a fire, which the adults sat around while the kids ran and played in the woods surrounding us. They also found the creek pictured above. C had also put together notebooks for the kids, so they could draw things they had seen out in the woods.
It was a very peaceful day. The kids ran. The kids played. The kids drew. We hiked. The adults sat and chatted. And we all tried some new fire roasted foods! We made
bannock
, something I have wanted to try for a while but never got the ingredients together for! I didn't use the recipe from that site, however, because it was a bit vague for me. Mine was similar, but I can't find the link to it right now, sadly. I'll post it when I do find it! We roasted apples--the easy way, on a stick like a marshmallow. The peel will char, and you can peel it right off and eat the apple. We roasted one whole in foil, too, but I am not sure how that one came out, I didn't try it. We of course had s'mores. And we made
banana boats
. We didn't use that recipe, though it is similar. T brought bananas, and I rattled off how we had roasted them when I was younger, too. So she tried it...but we only had regular size marshmallows, and we used pieces of Hershey bar. Still, really good. I don't think 5 minutes would have been enough, however. They are better, in my opinion, when the banana is fully mooshy. The first one wasn't quite soft enough, and it was on the fire for more than 5 minutes. Still, quite good, just not as squishy.
The weather was perfect. The leaves are falling from the trees and made a nice crunch beneath our feet. It was such a great day, that we are hoping to do it again next week, weather permitting!