It's
Muffin Tin Monday
again! This week had no theme, and given the holiday weekend and the fact that I spent much of it walking (30 miles in 2 days), I didn't plan for this week. Kiddo simply went to the fridge and pulled out whatever he felt would be nummy for lunch. Oddly enough, they wound up being red, white and blue, so we had part two of the
theme from last week
! I made 3 tins today because I am taking care of my nephew for a couple of days a week the next few weeks while his day care provider is on maternity leave. Here is what we came up with: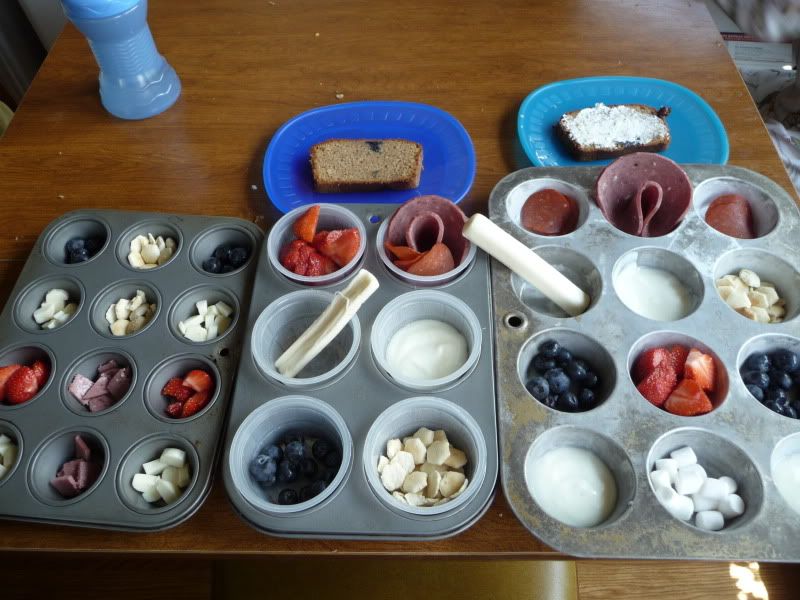 Here is Kiddo's:
Kutey's:
and Kousin's (he needs a better nickname than that!):
Also, for those of you anxiously awaiting the answer to
last weeks muffin tin
, here it is:
O beautiful for

spacious skies

,
--White chocolate pudding with red and blue sprinkles for fireworks
For amber

waves of grain

;
--string cheese, yes a bit of a stretch
For

purple mountain majesties
--blue corn chips
Above the

fruited plain

!
--fruits
America! America!
God shed His grace on thee,
And

crown

thy good with brotherhood,
--bagels (they look a little like crowns, don't they?)
From

sea to shining sea.
--blue tinted yogurt