My kids thoroughly enjoy going to the theater. And I love taking them. I kind of try to hit one play every 2 months--give or take. I also try to hit different theaters, different types of performances. Last fall we went to
"Bert and Ernie, Goodnight!"
at the
Children's Theatre Company
. Big production, very professional. We followed that with a community education production of Winnie-the-Pooh. Much smaller scale production, much less professional, held in a middle school auditorium with the old bowl fiberglass chairs and the swing up desks. The kids loved both productions, and that is kind of the point!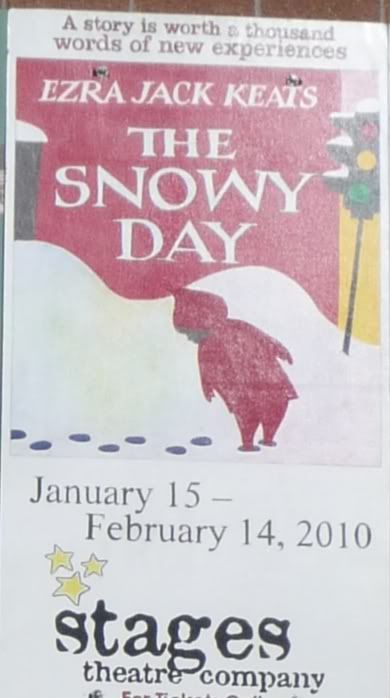 Our February production was at a smaller theater that partners with a couple of special area schools.
Stages Theater
is a gem! We saw
The Snowy Day
, based on
the book by Ezra Jack Keats
. The book is a favorite around here. We own at least three copies. Kutey used to recite it (as a two-year-old) as we drove from place to place. It was so cute. So when I saw it on the schedule, I knew we had to go. In spite of our balcony seating (I usually prefer the main floor, and a little closer to the action), the production was very engaging. It was very loosely based on the book, sort of the important pieces were there but were definitely expanded and added to. It was a musical, with lots and lots of singing and dancing (there were even kids who danced on in-line skates which stood in for ice skates--pretty impressive!) There was a cast of about 20 kids and 3 adults. And every one of them was fantastic.
The story itself was very well done. The scenes that were needed to keep it close to the book were present--the snowball, the mountain climbing, the tracks, the stick, the bathtub complete with funky tile. They even managed to make Peter's snow clothes look like the book--with the pointy head! There were moments that made me cry, though, because the story is about a little boy and his imagination and how some day he will be a man. Yeah, the stuff of tear-jerkers for moms' who just want their little ones to be little for as long as possible.
I think it was especially fun for the kids to see how great a performance featuring kids can be! We won't likely make it to another Stages theater production this season, but judging by
the list for next season
, we will be back!