I had planned to do several crafts for Valentine's day. Unfortunately we have been too busy lately and haven't had a great deal of time at home. I am trying to rectify that, but it didn't happen in time for Valentine's day.
We did however, manage to pull together this one.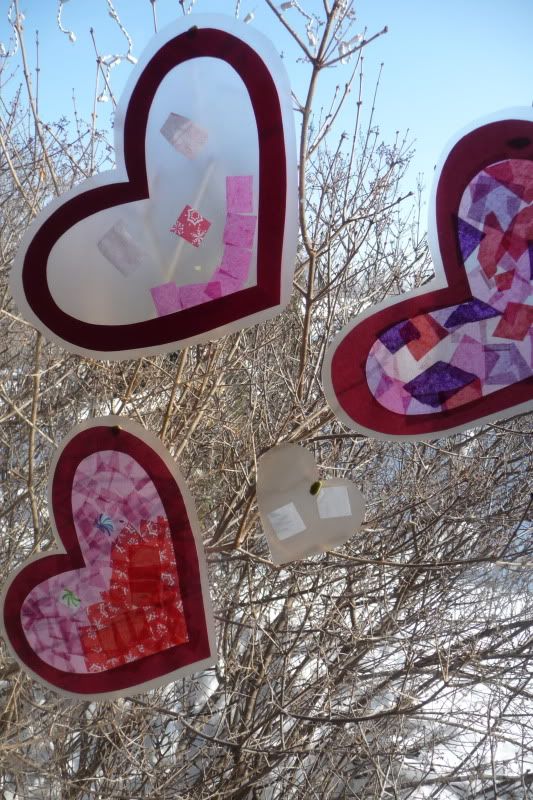 I was reminded of the idea
here
, via
One Pretty Thing
. But really, this is a craft for all seasons. We might be doing shamrocks for St. Patrick's Day, eggs for Easter, flowers for spring, stars for Independence day, apples for September, pumpkins for Halloween, etc. I have a stash of colorful tissue paper, and this doesn't really take that much.
I did some prep work to make the activity flow a bit better. I cut a heart out of a piece of pink construction paper (I folded it in half and drew my heart, first, to make sure I got as much out of the paper as I could). Then I cut another heart out of the center, a little less than an inch from the edge. Then I did another heart, about the same distance from the inside of that heart. This left me with two heart outlines of differing sizes and one small filled heart. We didn't use the small filled heart for this project.
I did that with 4 sheets of paper--2 red and 2 pink--so that the kids would each have 2 of each size, 1 red and 1 pink.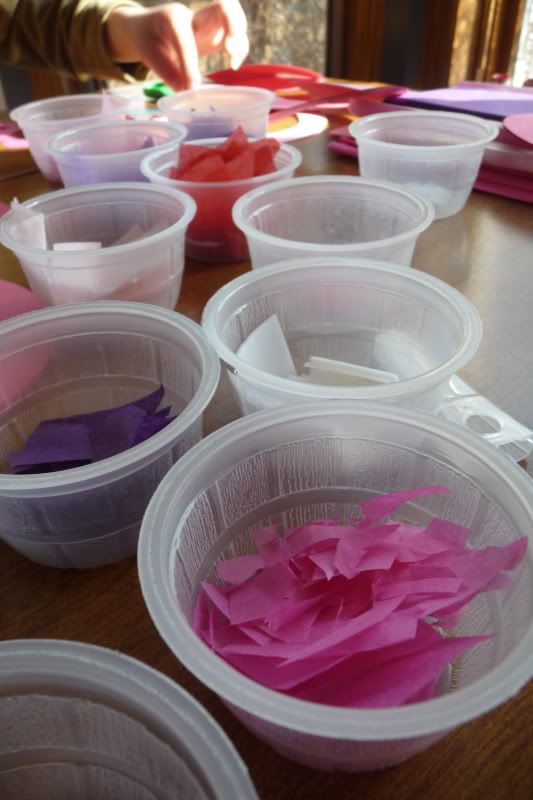 Then I cut some tissue paper into little pieces. This is where the kids started to participate. I cut strips of tissue paper which they then cut into smaller pieces. We had shades of pink and purple, red, white, and some special papers with snowflakes, spirals and stripes. The kids did a great job of cutting it into small pieces and putting it into the cups.
I had cut contact paper to the appropriate size, and I laid their hearts on the paper. Then they set about putting the tissue paper on it. This is a great project for multiple levels to do at the same time. The one thing I forgot to emphasize was that once you set down the tissue paper it was going to be stuck. I had to carefully peel a couple of pieces of tissue paper off the contact paper before they got the hang of it. Kiddo was very into the smiley faces. Kutey didn't completely cover either of the two she did. She made one with just a smiley face (have to be like big brother!) and one that was more random. I think she would enjoy just putting the tissue paper between the contact paper, without the shape. Maybe we'll try that sometime.
Once they had everything covered with tissue paper, I put another piece of contact paper over the tissue paper. I trimmed that to a heart shape, and that was it! Clean up was minimal, which is always great for a craft project. We each put one in the window, mostly because Kiddo didn't like how faded and brittle the Christmas trees we put up had gotten on the side facing the sun.