Some days just seem to disappear before my eyes. Thursday was one of those days. We did not get much of what was on the calendar accomplished. That isn't to say we didn't have a good day!
The kids were excited because we were going to friends for the morning. They really were not focused on anything. We left a little early with the intent of stopping by a garage sale on our way. It was a rainy, COLD day, but there were sales none-the-less! I managed to get 2 shirts for kiddo, but that was all.
We had a great time at our friends! These are the kids I used to watch on Mondays. They haven't been to our house for several weeks and the kids were very excited to see them. I got to spend some time chatting with their mom, which is always rewarding.
We left there just before lunch. There was another garage sale touted as one for homeschoolers and I had books to return to the library, so we went to the sale on our way to the library. They had *some* stuff, but I walked out with little for school. Kiddo was most excited about the sandwich container I got. We had one, now we have 2. They can each use one. Apparently this was exciting.
Then we went to the library. Going to the library is a commitment right now. There are 2 libraries about 3 miles from our house. One has a terrible selection, the other is currently closed for renovation. So we have to drive 8 miles to another library. I know 8 miles isn't that far, but it is literally all stoplights. It takes a minimum of 20 minutes to get there. Often I run in to return books and pick up the ones I have on hold. Today, though I needed to look up a few books that weren't already waiting for me. Books we will use for science. So we all went in.
And I am thrilled we did! Kiddo requested books on fish. So we found some. And a book on Manta Rays. So we got a book on Rays. And sea stars. Among others. Kutey wanted to look at "kid books." We have been reading a lot of chapter books and non-fiction books, and I think she just wants me to read more picture books. The fact that she picked out one book after another to "read before we take it home, so I can decide if I want it or not," probably supports that theory. We sat in the great reading room and read for a long time. Then we started playing with this: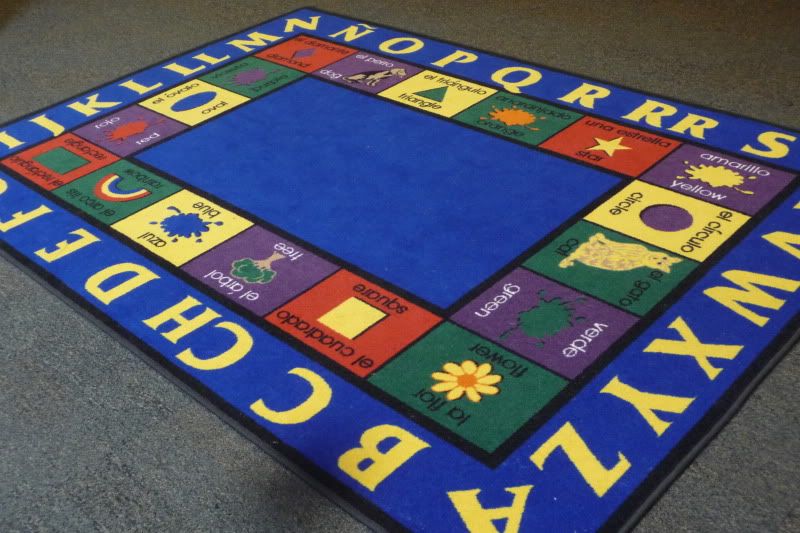 So. Much. Fun. I'd call out a word, in Spanish, for Kiddo to say and find. Then he called out words for me. Then Kutey stood on a word and Kiddo said it. By the end, Kiddo could easily say the words and find them. Great learning game. It made me realize this would be super easy to do at home, just using paper!
It was almost 3 by the time we left there, and I needed to pick up contacts, so we went through the drive-through. I don't like doing that, but the kids were starving, and we were an hour from getting home.
After picking up the contacts, we headed to the thrift shop. An unscheduled stop. But Kutey had done perler beads for the first time at our friends, and she wanted some for home. They are good for fine motor skills, so I was willing to indulge her. I know the thrift shop always has them, so it was easy. Kiddo picked up a few books while we were there, too.
Then we headed home, by way of a few garage sales. Didn't get much, but you just never know!
Hubby arrived home not much after us, and we discovered that his car had been broken into while parked in the driveway overnight. There was nothing in it to steal, so they got nothing, it was just totally disconcerting to have someone in our car! In our driveway! Such a violation.
So that is what happened to Thursday! I can't wait until the library closer reopens so that we won't lose a whole afternoon just taking a quick trip to the library!