This week should have held all things groundhog, in honor of Groundhog's Day, but it wasn't.
Wednesday
put a wrinkle in all of our plans for the rest of the week. So no Groundhog crafts to share.
We are, however, crafting for Valentine's Day!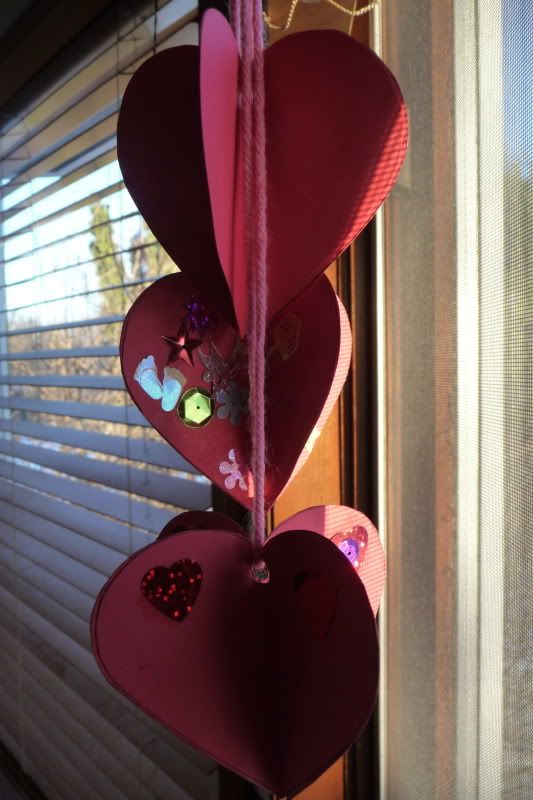 I have thought about making these since Christmas. We made trees in December, and while they were good, there were a few things I wanted to do differently. So I was looking forward to making these for Valentine's Day.
I tried them with the extra kids I watch on Mondays. It went OK, but they lost interest quickly. Partly because I turned on music. When you have been trapped inside as much as kids here in Minnesota have over the last month or so, there is a great deal of energy to be released. They wanted to dance instead.
So I tried them again today with just my kids with better results.
I haven't perfected this yet. The problem with the trees had been that they were too rigid to glue together after they were decorated. So this time we glued them together first, but then decorating them was a bit trickier. And we couldn't use glitter-glue, which is a favorite of the kids.
These are fun, whether you decorate them or not, though.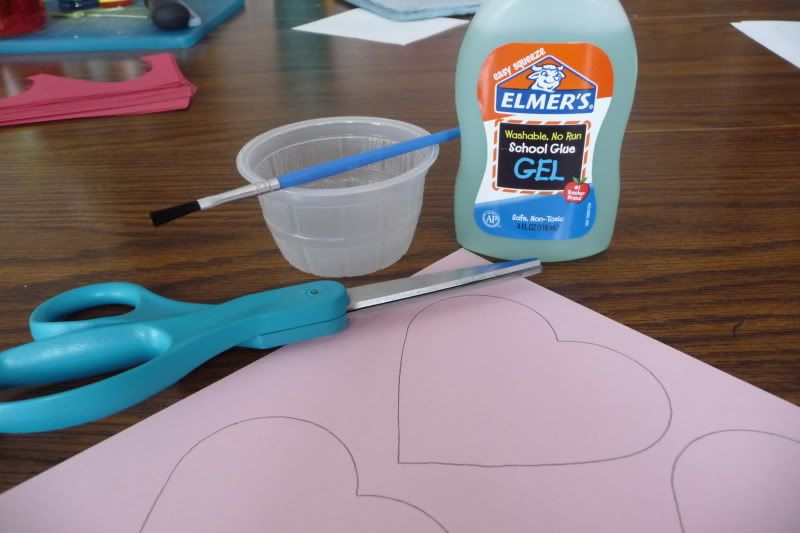 You'll need 4 hearts that are the same size. I made a template you can
download here.
I printed it on red and pink card stock. You could use white. You could probably use plain paper, though I haven't tried it. I cut out the hearts. The first time I had Kiddo do it, but he doesn't really enjoy precision cutting, so I did it the second time. Kutey glued her second one together with absolutely no assistance from me. She was so proud, and so was I. She very carefully lined the pieces up and put them together perfectly. I have a little trick. I put a little glue in a recycled applesauce cup, then Kutey uses a paintbrush to spread some glue on the paper. I find they get just the right amount of glue this way, and there is less waste!
Fold each heart in half, then glue one half of one heart to one half of another. Glue half of a third heart to the other half of the first heart. Then glue the fourth heart to the unglued side of the second and third hearts. Confused? Here are the pics.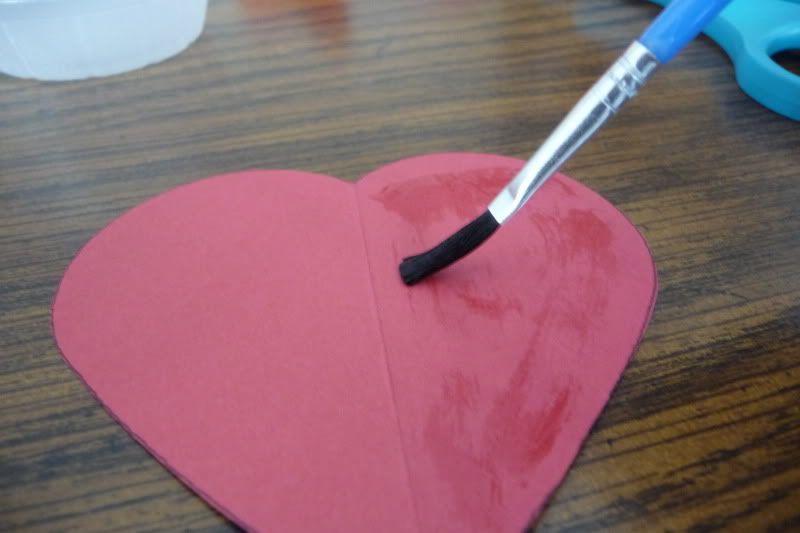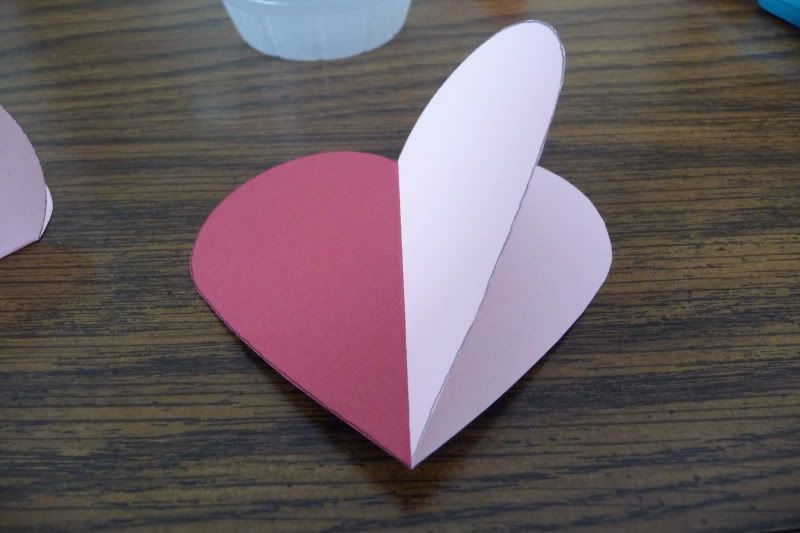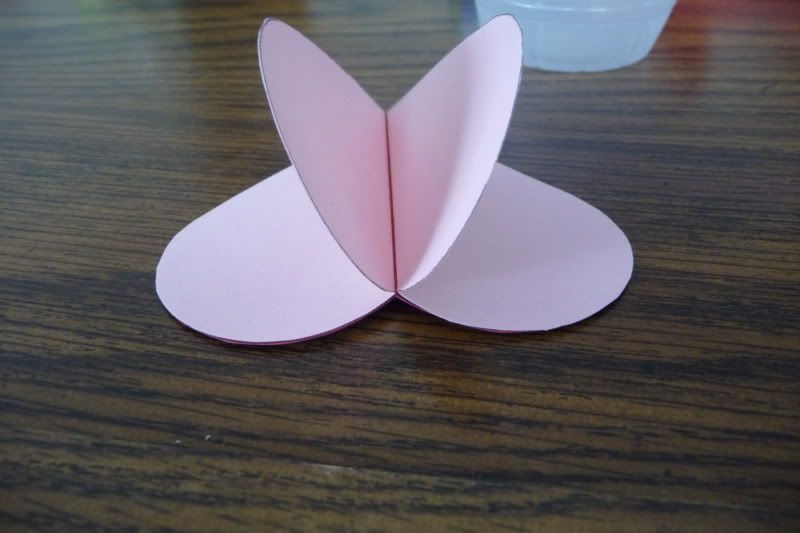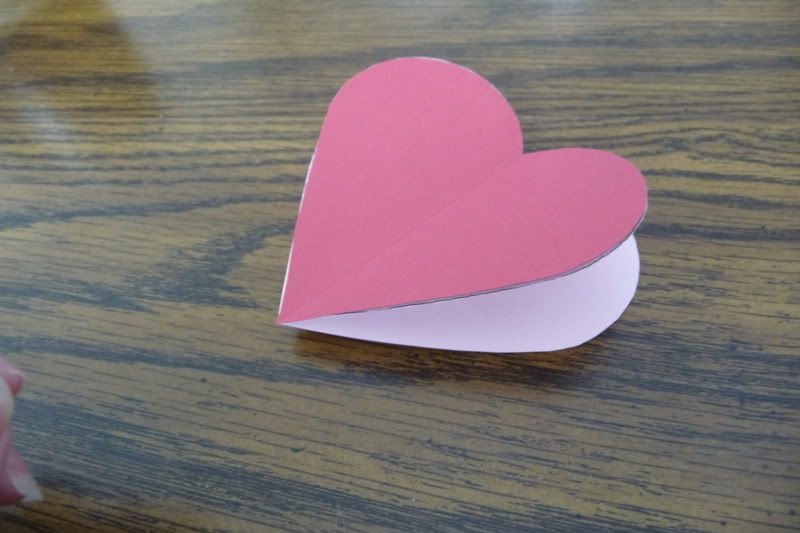 Then I punched a hole in the top and put a piece of yarn through it. We have an open banister in our house, so the idea is to hang the hearts along there; it has been looking a bit bare since we took down the Christmas garland.