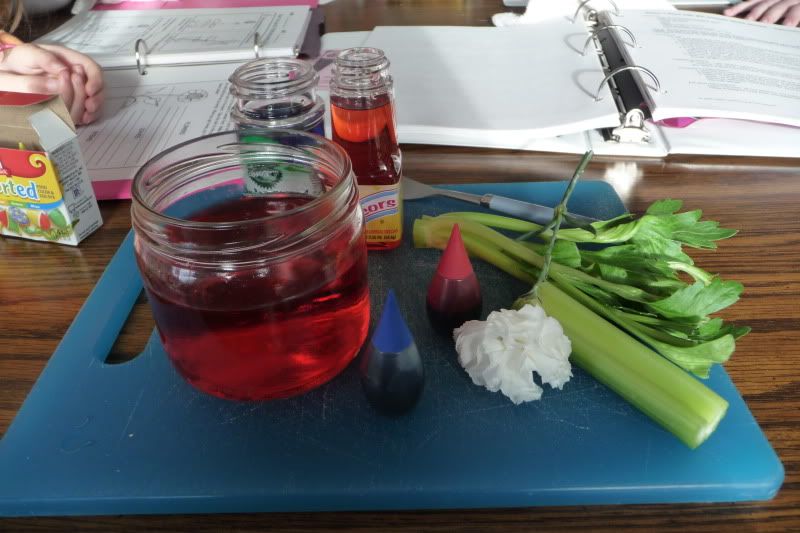 This week was supposed to be a week of wrapping up our science study of plants. We are still waiting to see results in two experiments. I wish it was spring so I would have access to plants that would show results faster, but we are doing the best we can with what we have.
This experiment was supposed to be set up on Wednesday and wrapped up yesterday, but well, the car dying made that a bit more difficult. We got it set up yesterday, though, and anxiously awaited results.
The celery was not a disappointment. By three hours in, we had red dots at the top of our sample. Woo-hoo! (The picture is 24 hours later, but we did have red!)
I knew the flower would be slower. The split stem gave us our first sighting of color, around the same time as the celery, but then the color stopped. We continued to check throughout the day, but not much changed.
This morning? The celery was more red, but the flower? Still white. When Kiddo looked REALLY closely, he found some blue.
Do you see it? That is all we got. Tiny little blue marks. Not exactly what we were hoping for, considering we had the stem split into red and blue. I could not have yet ANOTHER experiment in a holding pattern, so we finished out the write-up. I left the flower set up, just in case, but I have little hope of seeing much more.
I did, however, find this
lovely picture of what was SUPPOSED
to happen. It is exactly what Kiddo guessed would happen, and it allowed us to talk about how water goes straight up the stem.
Incidentally, the picture comes from
Science Bob's site
. I just discovered Science Bob a week or so ago, and I am adoring it! Lots of fun stuff, easy to follow, well explained.
*No, I am not being compensated in any way for the review of Science Bob's site. I just like the site!