We had a productive week this week,in spite of illness. We didn't get to everything I had hoped, but we got through enough to make us feel good about what we accomplished.
Valentine's Day was
Monday
. We had the three kids I watch on Mondays here for some Valentine's fun. We
played games
,
read about Valentine's Day
, and had a
special Valentine's treat
!
Tuesday
is our regular Tuesday group day. We had originally planned to go sledding. Unfortunately we have had exceptionally warm weather (in the 40s!), which has melted a great deal of our snow. As it turned out, two families couldn't make it this week, and my kids wanted to go no where. So we invited the remaining family out to our house. The kids spent the afternoon playing, while my friend T and I chatted about everything and anything.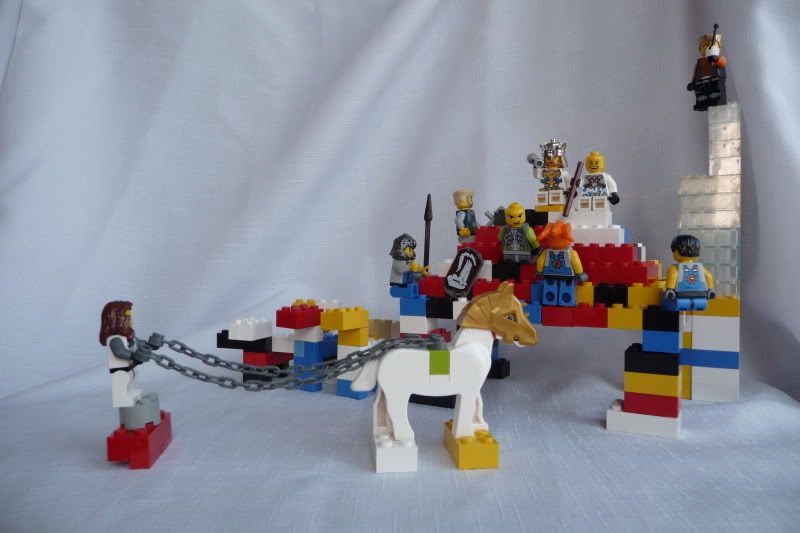 We spent
Wednesday
working on school. We started our study of birds in preparation for the
Great Backyard Bird Count
.
The lab
we did was fun and SO easy! We also studied the Greek gods, and Kiddo worked on
Mount Olympus
.
Kutey fell ill Wednesday night, so our planned trip to the Zoo to work on our bird study had to be postponed. Instead, on
Thursday
, we read a little, caught up on all of our
Mystery Class work
, and played a lot.
Kutey was still not feeling well on
Friday
, so we stayed home again. We were able to get our
Mystery Class
information recorded and get through our regular school work. We also started the
Great Backyard Bird Count
, with
much success, at least for us
!
Curriculum for the week
:
We read chapter 23 in Story of the World, Vol. 1, focusing on the Greek gods. Kiddo also read "The Gods of Olympus."
We began Unit 23 in R.E.A.L Science Odyssey-Life, studying birds. We only got through one lab, unfortunately, so we will be spending more time on this unit next week.

Kiddo is still working through Explode the Code 5 1/2. I showed this piece of our curriculum to my friend T on Tuesday when she was here. She commented that her daughter could read all of it, so she wasn't sure how it would be helpful. Kiddo has no trouble with reading the content.

I view it more as a way to teach the rules, or at the very least reviewing the rules in a more organized and formal manner

. I'm not actively teaching him how to read anymore, simply making sure the foundation is well established.

Kiddo also continued to move ahead in math. I have been extremely pleased with his progress. He actually seems to be catching the material! I need to be more consistent with his math, that seems to be helping immensely. We have been doing it right away every morning, I think we will continue that pattern. I am also planning some funnish activities for place value review and I hope to bring out the dice games again. Reviewing them regularly seems to help, too.

Kutey did some fun patterning work and some sorting with fun valentine manipulatives. She was too ill the latter part of the week to do much else. I have read Dr. Seuss's Sleep Book many, MANY times this week. It is her current favorite. I yawn every time I start reading it.
I am contemplating a self-inflicted quarantine for the next week. We have been sick far too often this winter. I feel like if we continue to go out, we might never get well!
We are linking up to
Weird, Unsocialized Homeschoolers
. Click to see what others did this week!