When I first read about
The Homeschool Village's
Garden Challenge
, my first reaction was to laugh. It starts today. March 31. HA! Here in MN, there is no chance of planting outside for a minimum of 6 more weeks. Mid-May is much more realistic. Add to that the fact that my garden looks like this: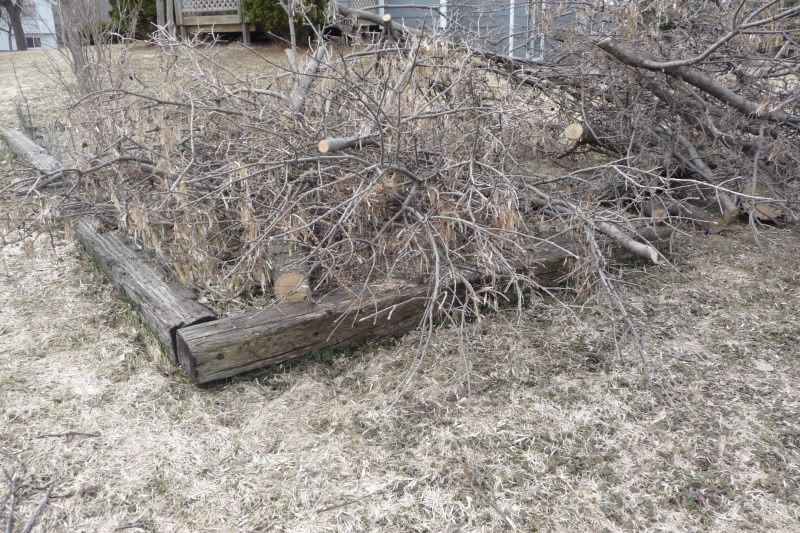 Yeah, not ready for garden season. That tree fell down in November, in the first heavy wet snow we had. It had a Y the center of which seems to have rotted somehow. The heavy wet snow was enough to pull the two sides apart. Hubby cleared the part that was in the neighbor's yard while it was snowing, but eventually the chain broke on his chainsaw, and, well, that is where it has been since November. Once the snow melted enough, he picked the branches up off the grass and threw them in the garden. Yep, right into my garden. Sigh.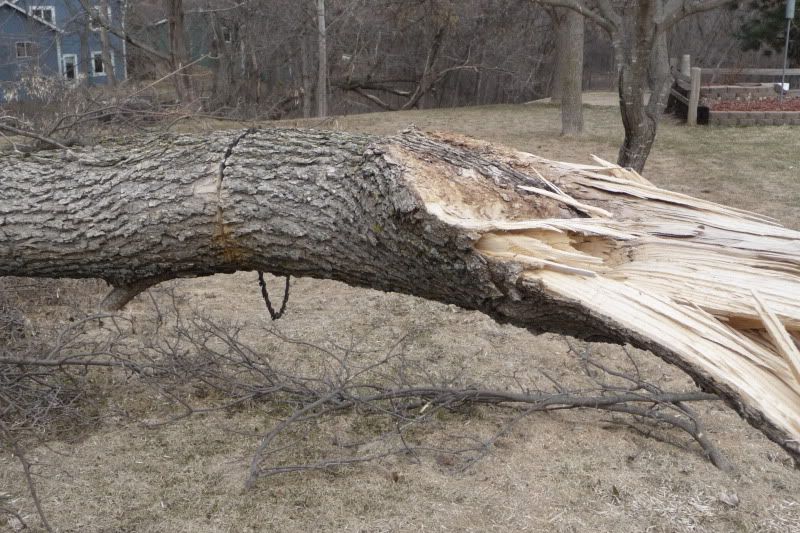 See the chain, stuck right in the tree?
So, the first part of our garden plan is "
clear out dead tree
." After that, we'll need to do some maintenance on the garden soil. Truthfully, we need to get soil. What is in that garden has been terrible for growing anything the last several years. So in all likelihood we'll have to buy some organic compost and topsoil. Lots of organic compost and topsoil.
The kids first comment about it being garden planning time was, "We need a bigger fence, to keep out the deer!" They are right, the last few gardens we have planted have yielded nothing for us. The deer either ate the vegetables before they were ready, ate the blossoms, or simply ate the plants. Kutey was particularly devastated last year when the deer ate her sunflowers before they even approached blooming. Sigh. So a fence. To keep out the deer. Step 3.
This bed won't have much planted in it. It gets too much shade.
Then, and only then, can we plant. We have 2 8 x 8 gardens. I only plan to plant one of them. the other one gets little sun because I have allowed a cottonwood tree to grow up in it. There are also 2 lilac bushes, placed in the garden "until we figure out where to put them," 7 or 8 years ago, which are now 4+ feet tall. The sunflowers go on the sunny edge of that bed.
In the other 8x8 bed, tomatoes, bell peppers, zucchini, and perhaps squash. Kutey would like carrots, so we'll see. Maybe some green onions. I also have 2 containers that I plant cherry tomatoes in, and hope to add another planter. If I manage that, I'll plant some herbs. Not thyme. I have enough thyme. It actually grows in my grass, believe it or not. The one thing that the garden has been able to support and the deer don't eat. But neither do we!
I have never done "square foot gardening," but this year that is sort of what the plan is. I found
this article
useful. We'll see if we actually end up with anything like that!
Since it will be a while before we can plant anything in our garden, we are having some fun with this: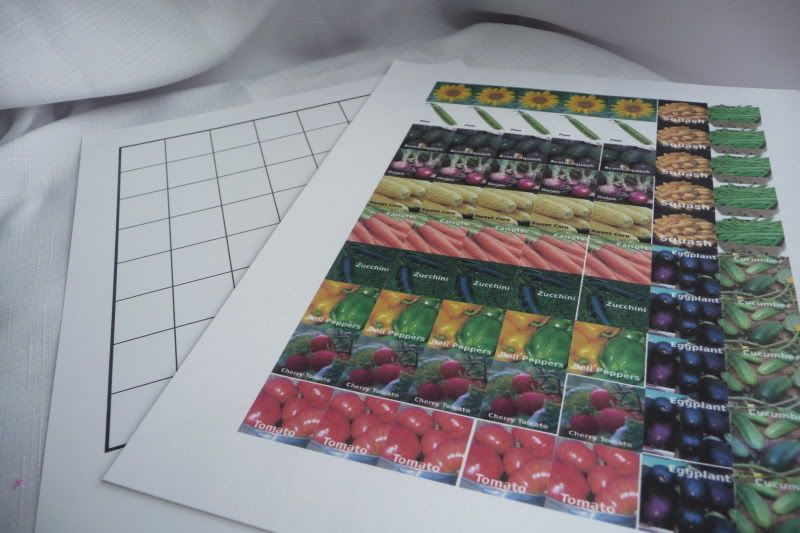 I created a grid that matches our garden, 8 x 8, and then made 1 x 1 squares with vegetables on them. The idea is to make the garden the way we want it on the paper. That way, once we are ready to plant, we'll have it all figured out, right?