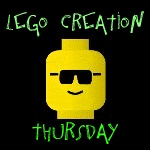 I wanted to participate in the
LEGO Creation Thursday
link-up over at
My Blessing From Above
. I have thought about doing something similar, but once I found hers, I decided it is less hassle to just link-up.
The problem is, Kiddo has been building lots, but he takes things apart as fast as he builds! Always on to the next idea, the next thought. While we have literally thousands of LEGOS, it always seems he needs the pieces from his current creation for the next. So I had no pictures to post. That is until this afternoon, when he put together this "treehouse."
There is a whole story that goes along with it. The skeleton and the girl are villains with super powers, that is about all I got out of his fast talking.
I thought it was very cool that he put a hole in the platform so the mini-figs could get to it. I also love the treasure at the top. Apparently that is what the villains were after.
Kiddo, as I said, is always building. To see some of the other things he has built (that lasted long enough for me to get photos!),
click here
!