In spite of the January doldrums, this was a great week for us!
On
Monday
I had the 3 kids I look after here. In spite of
some incidents
, we made it through the day relatively unscathed. We also had some fun making books for
Ashurbanipal's library
.
Tuesday
is the day we get together with our homechool group. For a variety of reasons, we hadn't seen them in a while. We went to
the Zoo
, one of our favorite hangouts. Though I forgot the camera,
we had a great day
. My fingers and toes thawed out by the next day...

Wednesday
found us at
the Works
for their homeschool day and
straw rocket launchers
. These are SO much fun. I think the wheels in Kiddo's head are turning trying to figure out how to make more, bigger, and better. Due to Daddy's illness, we
camped out
in our family room. I highly recommend it for beating back the January doldrums!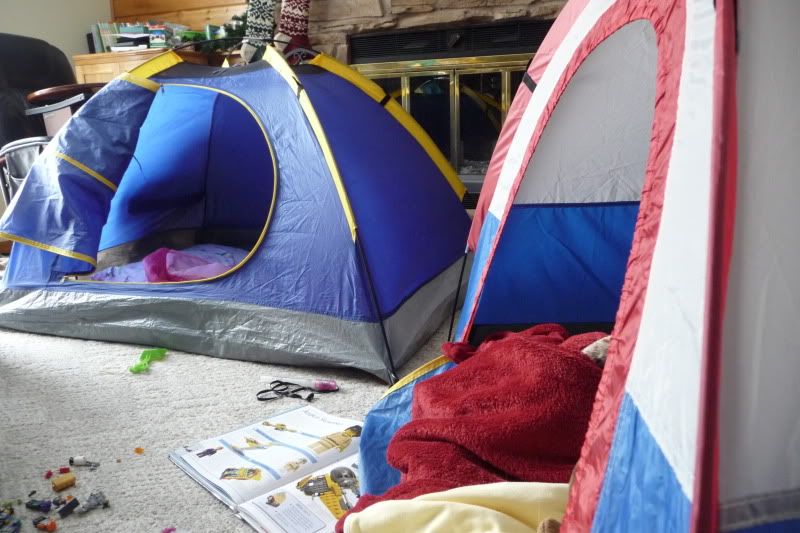 Thursday
we spent the day at home, working through our school stuff, playing with LEGOS and Polly Pockets. We finally did our
seed lab for science
, almost a week later! Kiddo also finished reading the Magic Tree House
Leprechauns and Irish Folklore Research Guide
. I let him sign up for the
Magic Tree House website
, he answered the questions for the book and got his first passport sticker. He is now very excited to read the rest of the series, so hopefully I have avoided
C*ptain Underp*nts
for the time being.
Today (
Friday
) we are home again, forgoing a
Friday History Field Trip
due to the Works outing earlier in the week. We did, however, get more done on Wednesday than I though we would, but this does make the week feel more relaxed. The kids are enjoying the extra time, recreating Harry Potter using Star Wars LEGOS.
Curriculum wise:
We finished up Chapters 16 and 17 in Story of the World Vol. 1, reading about the Assyrians, Ashurbanipal, the Library at Nineveh, the Babylonians, the Hanging Gardens of Babylon, and King Nebuchadnezzar.
Finished up Unit 26 in R.E.A.L. Science Odyssey Life-1, on Seeds. We had to skip the second lab because we can't go out and collect seeds right now. They are mostly buried under snow.

Kiddo started Explode the Code 5, and is cruising through it. ETC 4 covered syllable division which seems to have been more challenging than what is covered in ETC 5.

In Math, Kiddo started telling time. I admit I have skipped this largely because I like being able to fudge the clock. Once he can tell time, I have to be more precise. The upside of waiting, though is that he is grasping it quickly.

Kutey has been working on Starfall, along with a reading board I create for her each day on the white board. She had done quite a bit in Teach Your Child to Read in 100 Easy Lessons, but then lost interest. This is a little lighter and more fun. We'll go back to Teach Your Child when she is ready.
Read what other homeschoolers have done at
Weird, Unsocialized Homeschoolers
!