The LAST weekly wrap-up for January. YAY!
On
Monday
, we participated in
CurrClick
's new
LEGO club
for the first time. Kiddo enjoyed it, but I am anxious to see how it develops. We
studied Seurat
and learned how chloroplasts in leaves are like dots in a Seurat painting. We also started another lab that had us
wrapping plant leaves in aluminum foil
to see what happens when they are deprived of light. In the evening, we built our
paper mache volcano failure
.
On
Tuesday
, we spent the day enjoying the company of our friends at a friends house. Kiddo also made
thoughtful drawings
for each of his friends. Tuesdays really are one of our favorite days!
Wednesday
was a day at home. We watched them
clear the snow
from the center of our cul-de-sac, too! It is much, MUCH easier to get in and out of the driveway now. I am no longer worried about backing into the huge mountain of snow and getting stuck! We made it through our school stuff, though not without a lot of whining. I am blaming it on the time of the year. We are all longing for spring. We also did an impromptu in depth study of the Northern Cardinal because there was one on our bird feeder. I found a coloring page with several questions on it
here.
We listened to its song both in
this book
, where we read about it as well, and on the
All About Birds website
. We read about the "Cardinal Grosbeak" in Anna Botsford Comstock's
Handbook of Nature Study
, then listened to the chapter in the
Burgess Bird Book for Children
that includes the cardinal. It put all of us in a better mood.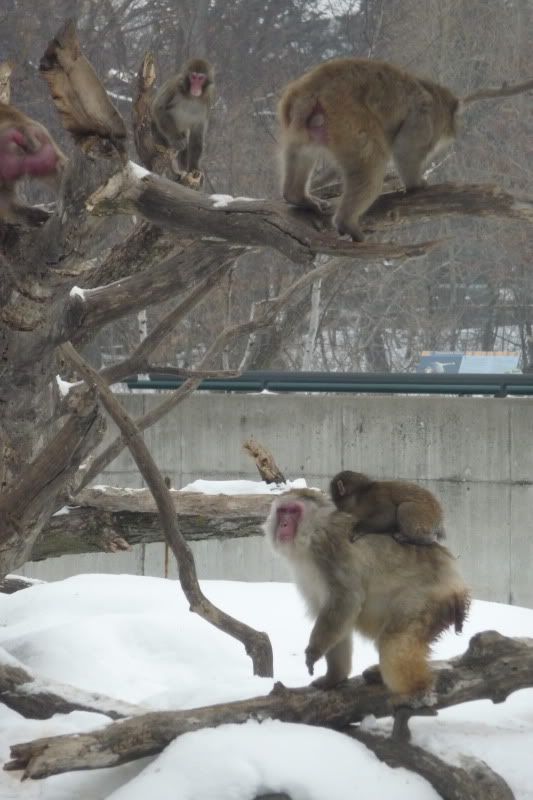 We went to
the zoo
on
Thursday
with friends we hadn't seen in a while. We got to meet their new baby and catch up on the last several months, all while enjoying the warmth and lush greenness of the zoo. We also finally found plants for our science lab AND washed the car! I know, most places that isn't big news. Here it means it was warm enough to wash it without the worry of doors freezing shut with us inside...
If you had a fun classroom (or went on a field trip) and posted about it this week, I'd love to read about it! There is a
linky here
, so link up! I'm going to try to make it a regular feature, because I love to see what places others are using to learn!
Friday
we out our noses to the grindstone and plowed through our school work. We started our experiment to prove that
plants take water in through their roots
, we read about ancient Greece and the Trojan war. The kids colored Greek vases, though I had given then a variety of choices--paints, collage, basically anything we had on hand! Kiddo went back in his Explode the Code and corrected all of the mistakes he made in the last few lessons. He did the same with math. And we had a conversation about keeping up with the corrections, doing them when I say they need to be done and not waiting.
Curriculum summary
:
We are working on units 27 and 28 in
R.E.A.L. Science Odyssey Life 1
. We'll wrap them up next week. If you need information on Seurat to go with Unit 27, I have uploaded what I pulled together, along with links
here
.
In
Story of the World Vol. 1
, we read Chapter 19: The Early Greeks and Chapter 20: Greece Gets Civilized Again. We also read a variety of library books about Ancient Greece and the Trojan War.
Kiddo will wrap up Explode the Code 5 next week, then he can work through 5 1/2. It should be very quick and easy, since he grasped all of the concepts in this one no problem.
Kiddo will also wrap-up his math book next week. We are learning about money in the next few days, then he has 2 reviews and he is done. I have the next book for him already, but I am also contemplating a switch to Math-U-See. I borrowed a DVD from a friend that is at his level. Hubby and I plan to preview it to see if it might be a better approach for us. I sometimes think he just needs someone else to explain it to him!
Kutey is still working her way through
Starfall
. We have completed all of the short vowel lessons, but I plan to take her back through them before we move ahead. I am also hoping to print various worksheets for her. Her writing is a bit slow, so I have to be careful what I pick. Anyone have favorite K4 resources?
We are linking up to
Weird, Unsocialized Homeschoolers
. Click to see what others did this week!